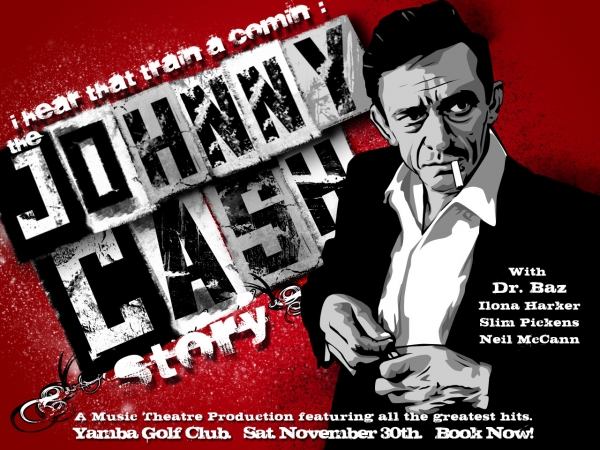 The Australian Johnny Cash Tribute Show
Country Superstar Johnny Cash was a music industry legend for half a century with an instantly recognisable voice and style. The hit movie "I Walk the Line" introduced his dramatic life story and his unmistakeable, tough music to a younger generation of music lovers. Johnny Cash fans now cover three generations.
Even people who might secretly confess to hating Country Music are nevertheless fired up with enthusiasm about his legendary up-tempo hits such as Folsom Prison Blues, Ring of Fire, Get Rhythm, I Walk the Line - there are just so many great and unique songs in the Johnny Cash repertoire.
Those familiar with the highly successful bio-pic will know of the enduring love story between Johnny Cash and June Carter. A member of the iconic country music group The Carter Family, June grew up in showbiz and became an accomplished comedienne. singer, and song writer - a true music professional and star in her own right. Together they were a towering force in American Music.
Vocalist & writer Barry Ferrier has brought together a team of talented performers to create an immersive music theatre show based on the Cash Story and interaction between these two gifted and unique music artists, told in the first person with insights into Johnny & the Tennessee Two's wild ride from obscurity to stardom.

Barry has the vocal depth to emulate the unique Johnny Cash sound and the vivacious and versatile Ilona Harker plays the 3 women in Johnny's life as she 'hoots and hollers' her way through this toe-tapping, side slapping mix of great songs and stories.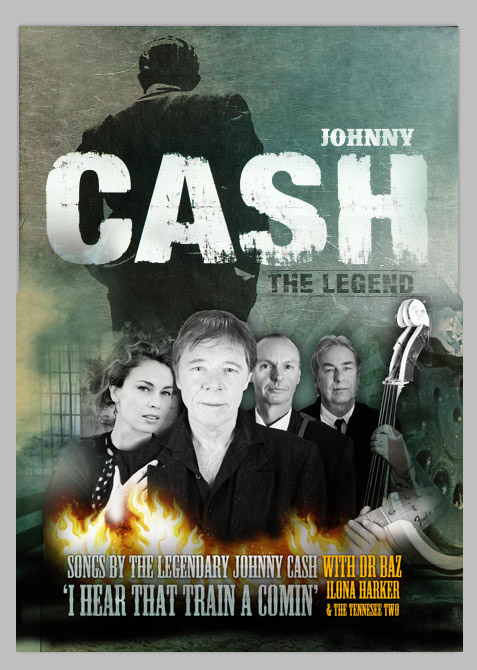 Johnny Cash covered songs by many of the greatest 20th Century songwriters such as Bob Dylan, Kris Kristopherson, and Willie Nelson and in later life he brough his unique authority to a later generation of song writers such 9 Inch Nails, U2 and Tom Petty, so the repertoire is extremely broad and interesting, including some of the greatest popular songs written over the past 60 years.

"I Hear That Train a-Comin': The Johny Cash Story", with Barry Ferrier as Johnny Cash and Ilona Harker as "Mama" Carrie, first wife Vivienne, and shining as June Carter Cash, with authentic rockabilly backing by the Tennessee Two, (Marshall Grant, Bass, played by Slim Pickens and Luther Perkins , Electric Guitar, played by Mark Heazlitt) - this is not just a bunch of songs , this is a music theatre experience... it's great entertainment that appeals across the generations and is just a whole lot of fun!
The show has been performed to great acclaim at the Gympie Muster, the Alice Springs and Darwin Entertainment Centres, and in Sydney at Panthers Penrith, Souths Sydney Jumiors Club , the Blacktown Workers Club and the Camelot Lounge.
Dowload the Press Release PDF Play the video at the foot of this page to view excerpts from the Show!
Read about Barry's other music projects including his acoustic funk and blues Duo with Thrett Jones , his blues/funk band the Blue Starz, and his work with Slim Pickens & Dr. Baz
Media
Excerpts from the Johnny Cash Show
back to top