Academic Career & PhD Abstract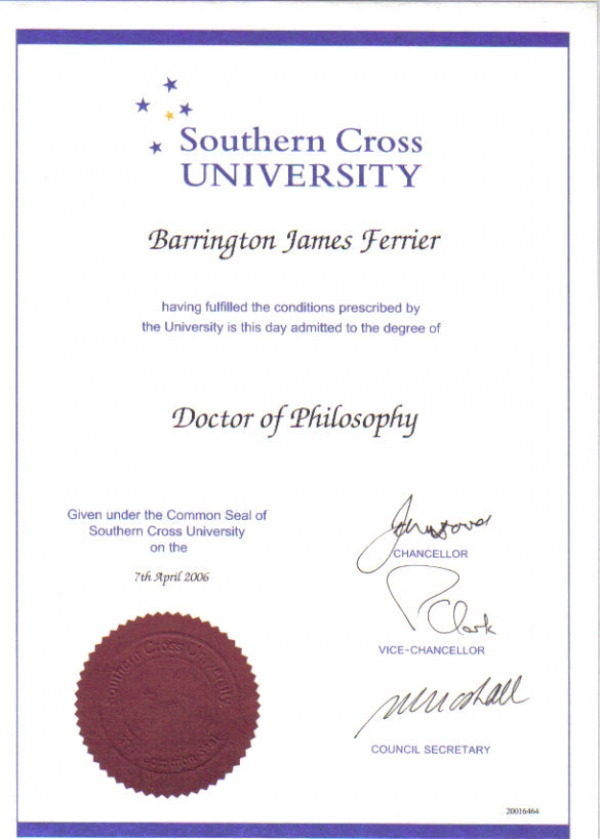 ACADEMIC CAREER
Barry graduated with a Bachelor of Arts form the University of Sydney majoring in Psychology in 1974. He completed a Diploma of Music Composition under Dr. James Penberthy and Richard Mills at Southern Cross University in 1984. He began lecturing in Music Business and tutoring in guitar at Southern Cross University in the mid eighties and graduated with Bachelor of Letters (Honours) from Deakin University in 1987. In the 90s Barry Ferrier was appointed Assistant Professor of Multimedia at Bond University on Queensland's Gold Coast, where he also lectured in the School of Film and TV in Video Production and Music Video. He has held lecturing positions in multimedia and music at Griffith University at Southport, Southern Cross University in Lismore and for three years at Central Queensland University. He has also taught multimedia and graphic design at Kingscliff TAFE for five years and the School of Audio Engineering in Byron Bay. He began studying for his Doctor of Philosophy in music and Southern Cross University but two years work on his thesis was destroyed in a housefire in 1994. He later began a new PhD project focussing on the emerging multimedia art technology which he completed through Southern Cross University in 2007.
Multimedia as Meta-Art:
The processes and aesthetics of interactive digital art. A folio of Original Multimedia and Supporting Documentation
© 2004 Barry Ferrier, B.A., Dip. Music (Comp.), B.Litt. (Hons.).
A dissertation presented to the School of Contemporary Arts, Southern Cross University, Lismore NSW, in fulfillment of the requirements for the degree of Doctor of Philosophy. June, 2004.
Abstract:
Concepts of meta-art, or a synthesis of the arts, have fascinated and inspired many historically important artists, including Wagner, Scriabin, Kandinsky, Cage, and the Bauhaus and Futurist artists. These thinkers dreamed of combining the diverse means of traditional artistic expression to create a total, transcending art experience.
A meta-art machine was visualized by the German author Hermann Hesse in his Nobel prize-winning novel The Glass Bead Game ('Magister Ludi'). Hesse explored the idea of a machine which has evolved to be the ultimate in art technology, a multidimensional machine/human interface, depicted (in a pre-computer time) as a fantastic creative and conceptual abacus, employing all the cultural and scientific knowledge of the ages. This once futuristic vision is becoming a reality, with the rapid evolution of the contemporary personal computer, which offers multi-dimensional, multi-sensory art-making tools, within one machine.
Connected to the internet, this nascent meta-art machine offers a channel for delivering multimedia art to the world. The concept of a meta-art machine is used as a unifying theme in Part One of this dissertation, as a means of focusing and clarifying an exploration of a wide range of contemporary ideas about interactive digital multimedia art. Arts associated with each of the primary sense modalities, it is argued herein, communicate on a number of channels of communication. The arts associated with each of these sensory channels of communication are discussed, with a view to gaining a broad overview and understanding of the unique aesthetics of the newly emerged, technologically-based digital multimedia artform.
The author's personal exploration of multimedia art is presented in the accompanying creative work, and this work is discussed in Part Two of the dissertation, drawing on the insights presented in the theoretical discussion comprising Part One.
The creative work is in two parts – the first a large scale experimental video animation, with synchronized audio/music track, presented on DVD, entitled Take Your Space Now ; and the second an experimental interactive CD-ROM, entitled the Machine. ©2004 B.J. Ferrier .
This dissertation or parts thereof including the abstract, may not be reproduced in any form without written permission of the author & copyright owner. It is hereby certified that the content of this thesis has not previously been submitted for any degree, nor is it currently being submitted for any other degree. All sources used and any assistance in its preparation have been acknowledged within.
© 2009 barringtonferrier.com - B.J. Ferrier PhD All Rights Reserved.
Extracts from an analysis of this PhD submission by Dr. Thomas Reiner, Monash University:
Introductory Observation : "I am very impressed by this PhD submission. The candidate has clearly demonstrated competence in his creative work and has a profound knowledge of his research topic....the original creative work is of a high standard and clearly research-based...."

Barry Ferrier (aka Barry Ferrier) is a Byron Bay based Australian musician, songwriter /composer and multimedia designer.
Latest from Barry Ferrier
back to top