08
Dec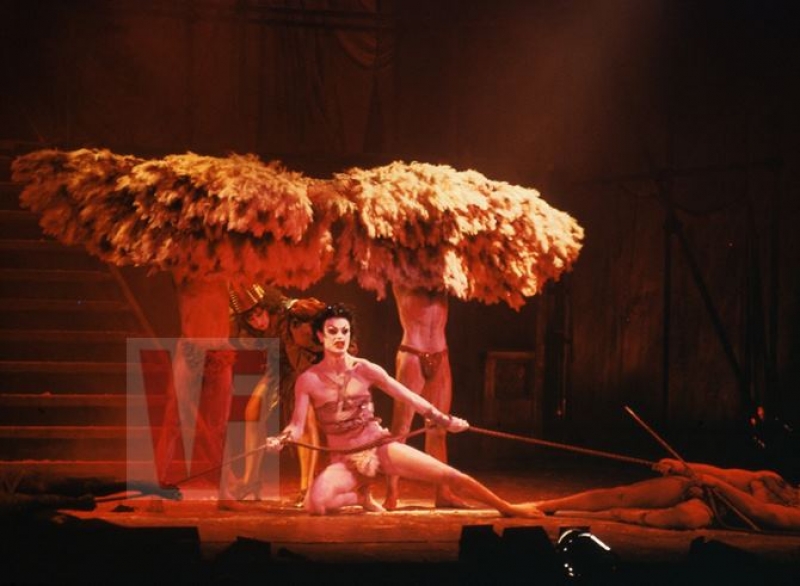 Lindsay Kemp is an influential British dancer, actor, teacher, mime artist and choreographer who had a major impact on the Australian Theatre scene when his Company performed in Sydney and Melbourne in the 70s. He passed away in 2018.
After meeting music director Andrew Thomas Wilson at a cast party for "Joseph & the Amazing technicolour Dreamcoat" and spending a weekend jamming with Andrew at my flat in Manly, I was invited to join his internationally celebrated Lindsay Kemp Company and worked with this ensemble in Kemp's adaption of Jean Genet's "Flowers" at the Comedy and Her Majesties Theatres in Melbourne. I had been offered a part in the original Mad Max film just about to be shot through my agent Faith Martin, but it was then just a low budget film project with unknown stars, such as a fledgling Mel Gibson, so I turned down my opportunity to become an international film star to take on what was, at the time, the biggest "break" a young composer could have in Australia.
I went on to spend some months composing the musical score (in collaboration with Andrew Wilson) for the Oscar Wilde play "Salome", which we performed at the New Arts Cinema, Glebe, and which later went on on to a sell out season at the Roundhouse in London. The London Times described the music for this production as "thrilling".
The score was partly prepared quadrophonic tape, mixed at the Sydney Conservatorium of Music quadrophic studio, with myself performing a range of pseudo middle eastern music on my collection of exotic instruments with Andrew contributing then futuristic spaciousness on his huge Modular Moog. In the show itself I played a range of percussion instruments, though I had a cameo role playing "La Paloma" on a mandolin, at Lindsay's feet, in the court of Herod. I recall in pre-production Lindsay asking for "the Wings of the Angel of Death" to fly from the back of the theatre to the stage - a challenging sound cue - and one of the climaxes of the show, the Dance of the Seven Veils, was a mesmerising orgasmic dance extravanganza with eerie smashing glass sounds spinning in dizzy quadrophic spaciality around the theatre, as I bashed away enthusiastically on drums and cymbals.
I was the only "straight" guy in an ensemble of eccentric and gay theatrical divas, chosen for their stunning physical beauty and artistic abilities as dance/mim performers, at the very dawn of the Gay Revolution. My partner at the time, documentary film maker Nikki Ma, was working on the opulent costuming and I recall a hallucinogenic kaleidoscope of memories amidst a constant weird atmosphere from the cast's consumption of various mind altering substances. I was young and relatively innocent and it was an absolutely thrilling epsiode in my life. I spent much of my downtime time during rehearsals and later performances in a flat adjoing the theatre with the blind dancer Jack Birkett, or the Great Orlando. He was a charismatic performer with powerful singing voice. When working with Kemp in Italy in 1966, he began to lose his sight, attempting a variety of cures ranging from surgery to bee-stings. He nevertheless became entirely blind, but responded by growing more extreme in his performances and his persona. He passed in 2010. A huge personality, and a talented and delightfully funny man. Jack became a great friend at the time - and I remember how cast members would have to subtly point him towards the audience at times, as he groped around in his darkness, always stealing the show. I have some vivid memories of escorting Lindsay to theatre performances around Sydney in a tuxedo, including one celebrated night at the Sydney Opera House for a performance of a John Cage ballet, where I met my then experimental musical heroes John Cage & David Tudor.
Lindsay Kemp is also famous as a mentor to David Bowie, and first met David Bowie in the summer of 1967 and instructed him on the benefits of mime applied to any theatrical presentation. The Kemp - Bowie association together produced many new and exciting ideas and influences for the young David, who later remarked 'I owe it all to Lindsay' .
About Lindsay Kemp
Born in South Shields, Lindsay Kemp was raised in Yorkshire and attended Bradford Art College before studying dance with Hilde Holger and mime with Marcel Marceau.
Kemp formed his own dance company in the early sixties and first attracted attention with an appearance at the Edinburgh Festival in 1968. Despite thirty years of worldwide touring with his company and the occasional film and television appearances, Kemp is ironically best known by devotees of Kate Bush and David Bowie, both former students and, briefly, members of Kemp's company (Bowie as a performer, Bush as a wardrobe assistant). Indeed, it is rumoured - a rumour begun by Kemp himself - that he had a brief but volatile affair with Bowie in the late sixties, culminating in a failed suicide attempt more notable for its melodrama than sincerity of purpose.

Kemp's style of performance, a unique and seductive blend of Butoh, Mime, Burlesque, Drag and Music Hall, has at different times been described as fascinating, colourful and self-indulgent, but rarely fails to attract critical acclaim and a loyal fanbase.
He staged and performed in David Bowie's Ziggy Stardust concerts at London's Rainbow Theatre in August 1972, and, with Jack Birkett (more on him below), appears in the promotional video for Bowie's single John, I'm Only Dancing.
Kemp's film roles include a dancer and cabaret performer in Derek Jarman's Sebastiane (1976) and Jubilee (1977) respectively, a pantomime dame in Todd Haynes' Velvet Goldmine (1998) and the wonderfully camp pub landlord Alder MacGregor in Anthony Shaffer's The Wicker Man (1973).
During the early 70s, Kemp was a popular and inspirational teacher of dance/mime with a regular two and a half hour session at the Dance Centre in Floral Street, Covent Garden. This was in the days before the Dance Centre became an up-market private club, and anyone could and did drop in. Classes were sometimes taken by Lindsay's unsighted friend Jack Birkett (aka 'The Incredible Orlando') whose flamboyance and mastery was such that uninitiated newcomers could go through a whole session without realising that they were being taught (and corrected) by a blind teacher. It was said that Lindsay had 'saved' Birkett from despair by re-training him after he lost his sight.
The Lindsay Kemp Company caused a sensation when they toured Australia and Kemp's powerful, emotive visual style influenced a whole generation of Australian directors and theatre professionals.
Reading this review (below) that I recently came across made me realise how little I understood, back then, of the subtlety and intelligence that Kemp brought to adapting Genet's demanding novel into a psychologically disturbing and visually sensational 'mime' , or piece of 'silent' theatre (though music played a huge part in its emotionally wrenching experience). There was only one line of spoken dialogue in the two act tour-de-force 'Flowers'.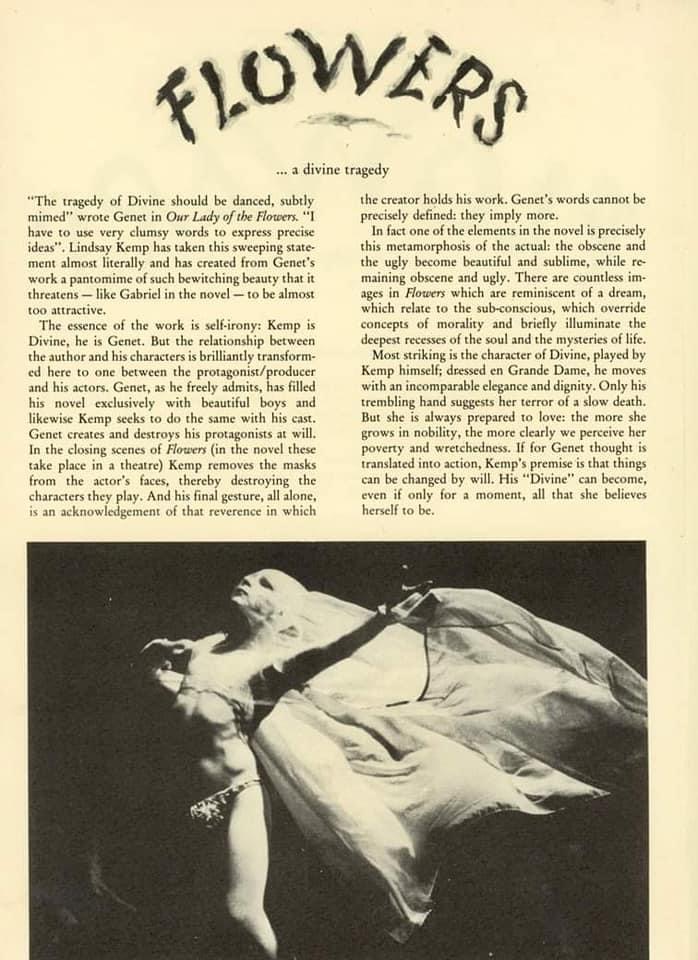 [View the image gallery below]

Barry Ferrier (aka Barry Ferrier) is a Byron Bay based Australian musician, songwriter /composer and multimedia designer.
Latest from Barry Ferrier
Media
Lindsay Kemp Company - Excerpts from "Salome"
back to top