02
Aug
The Astounding Optimissimos in 'Paradise: Depression Style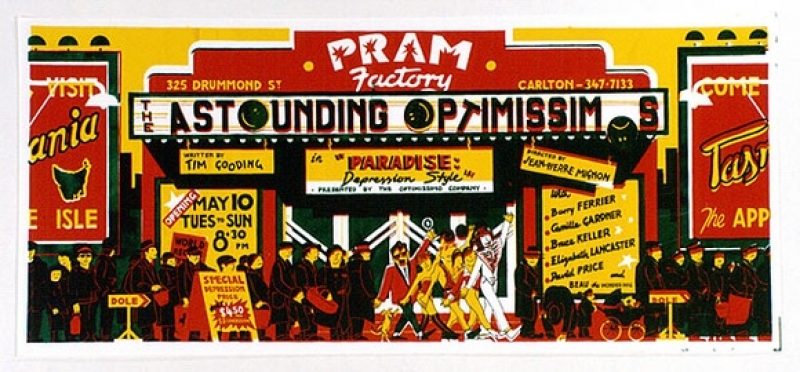 I think it was 1977 that I successfully auditioned for The Astounding Optimissimos in 'Paradise: Depression Style which was the first play in Australia to be directed by the acclaimed French theatre director Jean Paul Mignon who went on to great success with Anthill (Australian National Theatre). Written by award winning Australian writer Tim Gooding (famous for the film Heatwave starring Judy Davis) this was a bizaare musical which was staged at Melbourne's legendary Pram Factory, in which I playedthe piano and my character was a Peter Allen parody - I actually danced and sang "I Go to Rio". It featured Camille Gardner (a beautiful actress and singer who died tragically in a light plane accident in Byron Bay, the day after I had a reunion lunch with her in the 80s), David Price, Elizabeth Lancaster, and Bruce Keller. Through the mists of time it is hard to recall much but I remember a scene that was some kind of choreographed cross between a ballroom dancing marathon and a dodgem cars style elimination wrestling match - if you can imagine that!
I was extremely impressed by JeanPierre Mignon's dedication, insight and cast support as a director, and he worked with me tirelessly, line by line, to help motivate and add nuance to a my eccentric part in this mad cap, surrealist comedy. It was a huge flop, despite the brilliance and passion brought to the production by the ambitious director, determined to make his mark. After several nights of virtually no audiences, some of the cast staged a boycott, which enraged the fiery Frenchman who believed in the ideals of theatre - the show must go on! - and there was a very tense standoff.
During this period I became great friends with acclaimed aboriginal actor David Gulpillil, who used to frequent a nearby nightclub that the cast from this show would hang out at, after the show.

Barry Ferrier (aka Barry Ferrier) is a Byron Bay based Australian musician, songwriter /composer and multimedia designer.
Latest from Barry Ferrier
back to top