Heaven & Hell : the Friendship of the Big O & the Man in Black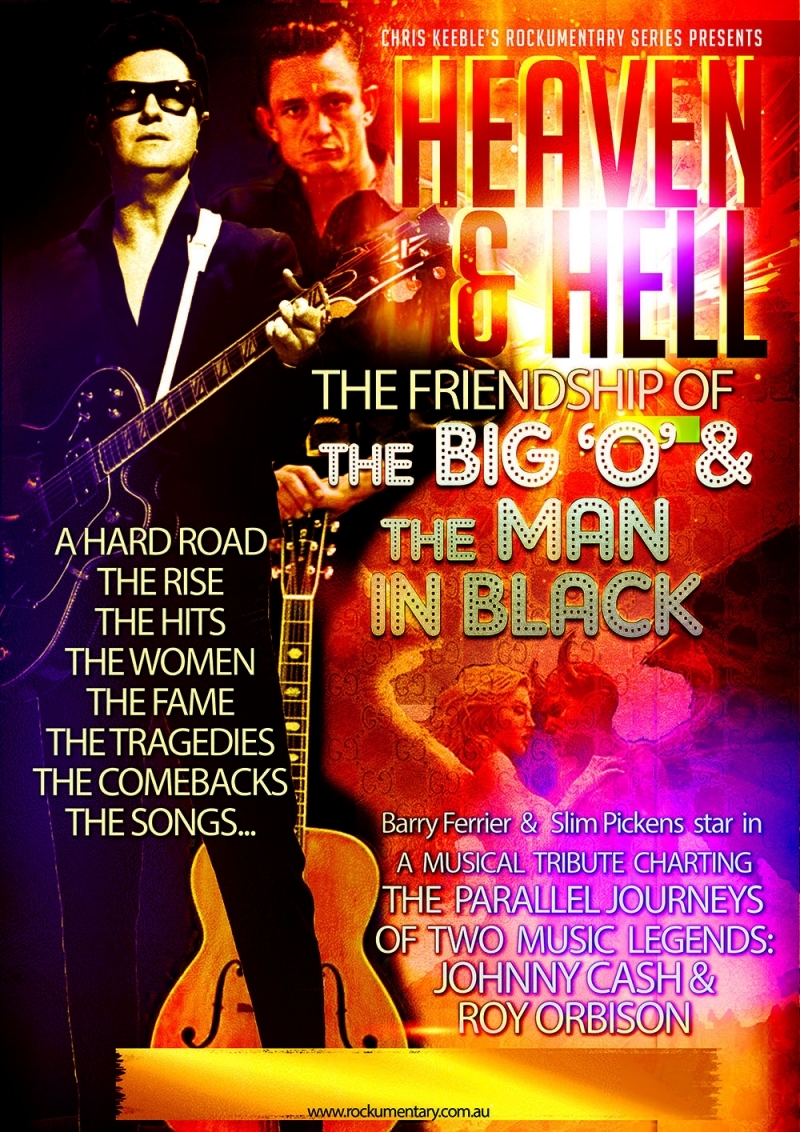 The Story of Two Music Legends
One of rock music's most gifted singers, Roy Orbison grew up in Texas and worked in the oil fields, dreaming of music success. He was gifted with a clear tenor that soared into an angelic falsetto, later adored the world over. After a chance meeting with Johnny Cash, he was introduced to Sun Records by this new friend, and went on to enjoy a string of hits from the late 1950's through the mid–1960s. He moved between two music styles –– up-tempo rockabilly songs . . . and dramatic ballads of isolation and longing. He was a shy, staid, almost motionless performer, his mouth barely seeming to move as he sang his songs' poignant and often painful lyrics, with his swept back pompadour (his almost white hair was always dyed black) and a mysterious aloofness behind his trademark black, thick-lensed dark glasses Just weeks before his death on Dec. 6, 1988, Roy Orbison told Rolling Stone magazine that he couldn't sum up his life in a paragraph, but might be able to do it through his songs. "Parts of Crying, parts of Pretty Woman, too, and Running Scared. . . . Pieces of my songs would tell the story." After his career waned he made a huge comeback with the Supergroup "The Travelling Wilberries".
Johnny Cash, the Man in Black, was a singer, guitarist and songwriter whose prolific music innovatively mixed country, rock, blues and gospel influences. Born in 1932 in Arkansas, Johnny Cash grew up on a poor cotton farm and joined the Air Force in 1950. He co-founded a band following his discharge, and within a few years Johnny Cash and the Tennessee Two had scored hits with songs like "Walk the Line." Cash's career was nearly derailed in the 1960s by a serious substance-abuse problem, but his marriage to June Carter and acclaimed album Johnny Cash at Folsom Prison (1968) put him back on track. In later years, Cash joined the country supergroup the Highwaymen and went on to release a series of award winning barebones solo recordings with producer Rick Rubin. He died of complications from diabetes on September 12, 2003.
Roy Orbison first met Johnny Cash when they both performed live to air at a small Texas radio station - Roy was the lead vocalist with a rising local band who had won a resident spot on the show, while Johnny was in Texas with Carl Perkins to promote his first chart success "Cry Cry Cry". Johnny heard Roy sing and was so impressed he offered to help him get in front of legendary Sam Philips, the head of the iconic Sun Records, with the aim of securing a record contract. It was the beginning of a lifetime friendship, as the two men embarked on their unique individual wild ride to music stardom. For over a half a century they experienced a parallel journey through the highs and lows, the pressures of celebrity, personal tragedy, incredible success, disappointments and falures, come-backs and Super Groups, each attaining legendary status as towering figures of popular music, remaining close friends to the end.
Both these wonderful musical talents have left us now, and, in this fantasy show, we meet our two legends in the Waiting Room at the Pearly Gates, where they discover that they each have serious misgivings about how they will be received by Saint Peter ... ...and they begin to recount stories of their lives, both men concerned at how the excesses of their youth will be measured in the Great Big Ledger of Life...
Johnny Cash was a wildman in his youth and with a deep, dark voice and a penchant for women, drugs and drinking there is no doubt he had a devil to deal with. Roy, with the voice of an angel was a different kind of man, and that contrast in singing style and lifestyle makes for a fascinating story. It is not widely known that, at the time of Roy Orbison's greatest personal tragedy - two of his three young sons were killed when his house burnt down while he was touring the UK - Johnny stepped in to help his friend who could not face returning to the scene of his loss, and he bought the property from Roy and preserved it as a tribute to these lost innocents.
In a macabre twist, Johnny later built another house on the property and it too was consumed by fire. Thus this highly entertaining show weaves together two fascinating life stories and a series of wonderful songs which are amongst the most widely know and loved hit songs of popular music history. With both performers strong vocalists and possessing unique gifts as multi instrumentalists, this show can be presented with a cast of just two - with live musical backing (no fake backing tracks) - Slim plays double bass to Barry's highly skilled guitar in the Johnny Cash songs, and Barry plays drums & keyboards to Slim's guitar in the Roy Orbison songs.
Byron Bay based musicians Barry Ferrier and Slim Pickens met in 2002 at the weekly open mic night at a hotel in the quaint rural town of Bangalow and immediately forged a friendship and creative partnership that has endured 15 years. Throughout these years they have been performing their Ry Cooder style blues and roots music together as "Slim Pickens & Dr. Baz" and in this format they have played at the Byron Bay Blues Festival, Blues on Broadbeach Festival, the Tamworth Country Music Festival and the Gympie Music Muster, as well as hundreds of shows in pubs and clubs up and down the eastern seaboard and have released two albums, "Cactus" and "Next Time".
In 2005 and 2006 they travelled to Norway to perform at two festivals and clocked up over 60 gigs there as well as performing in London and touring Northern Ireland. They have also worked together in the rockabilly showband "the Purple Drippers" performing at the Coolie Rocks Festival and the Gympie Music Muster.
For the past few years Slim and Barry have enjoyed great success with a stage musical written by Barry on the life of Johnny Cash entitled "I Hear That Train a-Comin' : the Johnny Cash Story" which has recently returned from a sell out mini-tour, including shows at Darwin & Alice Springs Entertainment Centres, and acclaimed performances at some of the biggest venues in Sydney, (and also features their talented friends Ilona Harker as June Carter and Mark Heazlitt as Luther Perkins). Barry's ability to emulate the unique deep voice of Johnny Cash is mirrored by Slim's powerful tenor that soars effortlessly to the vocal range made famous by Roy Orbison. When they discovered that Roy and Johnny were life-long friends, it was just too tantalizing not to try to put together a new show that showcased this great story and their own friendship and equally contrasting voices.
Thus was born a new musical tribute show that weaves together the amazing story of these two legendary performers in a fascinating journey through their epic lives and their repertoire of famous and widely loved songs.
"We became like brothers, right from the start..... and it stayed that way right to the end."
Johnny Cash

Barry Ferrier (aka Barry Ferrier) is a Byron Bay based Australian musician, songwriter /composer and multimedia designer.
Latest from Barry Ferrier
Media
The Opening sequence from "Heaven & Hell".
Barry Ferrier
back to top