10
Dec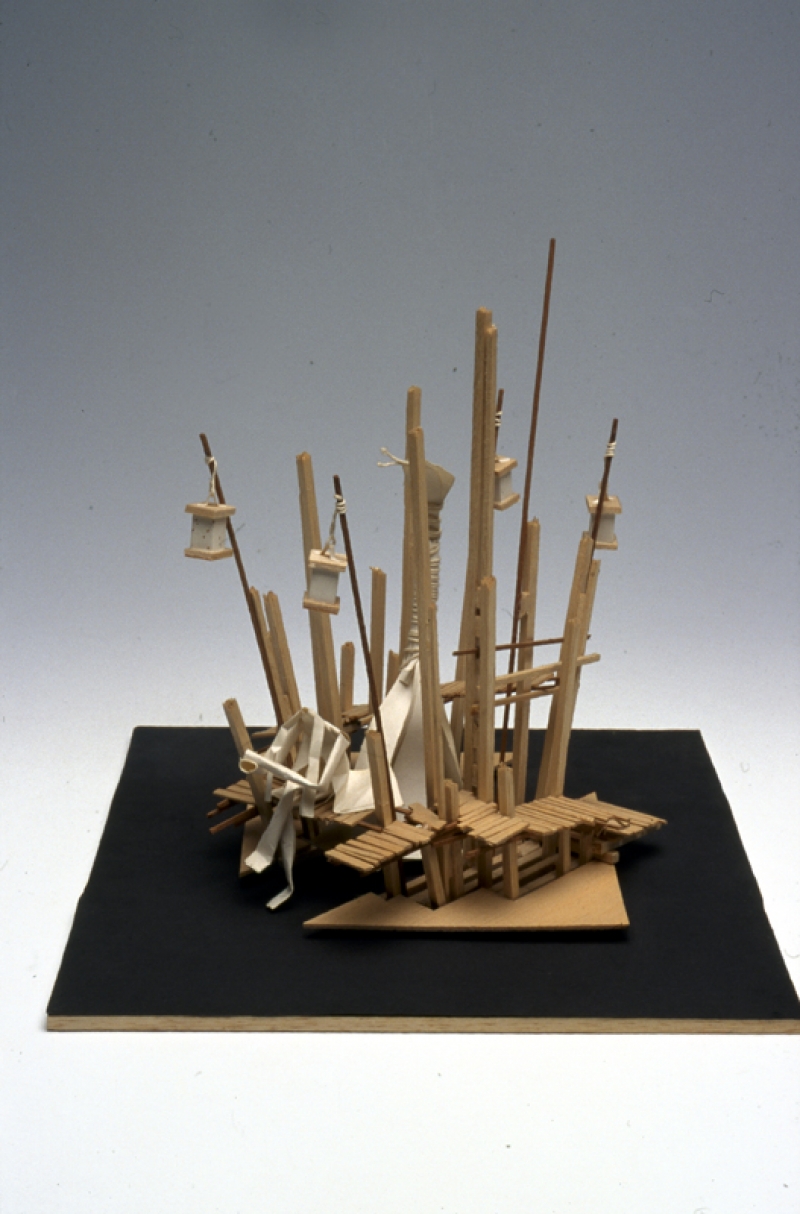 In 1985 I became Music Director and composer for the epic Robyn Archer penned production entitled "The Three Legends of Kra" which was a feature of the opening ceremonies for the then brand new Queensland Performing Arts Complex. The theme was woman heros in various cultural contexts using craft to avoid impending disaster. The production was designed on a monumental scale by the genius of Australian theatre design and visual theatre Nigel Triffet and starred Diane Cilento (of "Goldfinger" fame, ex-wife of Sean Connery and the daughter of Lady Cilento who introduced vitamins supplements to the world ).
I wrote the third section of music for the Brisbane Youth orchestra in the style of Sibelius and conducted this awesome young orchestra for the nine performances - my one chance so far to write for and conduct an orchestra.
The production was mounted outdoors with a massive complex of scaffolding and machinery. For the Japanese section of the three part play composed by Nick Lyons I had to learn to play the 13 string japanese harp or Koto. This section of the production also featured a 10 metre high puppet made in the style of a Japanese line drawing, which Diane Cilento - as Kra - hypnotised with a small hand mirror. Lisa Spence featured as the vocalist in the American Indian section in which I played hand drums and wooden flutes . The production included a choir of 150 teeangers descending a ramp in a full size balsawood Viking ship singing a song I composed near the finale. There was also a giant bird wich flew across the set as kids high on the scaffolding sounded primitive buffalo horns.
Triffitt, Nigel
Biography
Nigel Triffitt was one of Australia's most innovative and visionary director/designers. Born in Hobart, Tasmania in 1949, Triffitt studied briefly at both the National Institute of Dramatic Art in Sydney and the Drama Centre, London before deciding that experience was the better teacher.
Throughout the 1970s, Triffitt's work as a devisor, director and designer ran the gamut of theatrical styles; working in traditional theatre as Resident Director at St Martin's Theatre in South Yarra; directing student theatre at Monash University, and taking his Yellow Brick Road Show traveling around Australia and overseas. During the late 1970s, Triffitt worked as a freelance writer, director and designer on community-devised productions such as The Darwin Show and theatre-in-education pieces such as Juke – a Milkbar Romance.
His work was brought to greater public attention with the creation of Momma's Little Horror Show(1978), an eclectic mixture of adult puppet theatre and visual theatre. Highlights from Triffitt's career include the productions Secrets (1983), which was developed in conjunction with Handspan Visual Theatre, and the Fall of Singapore (1987).
Although widely associated with puppetry and visual theatre, Triffitt has worked in almost every field of the performing arts. He has worked with dance collaborators such as Jonathon Taylor and The Australian Dance Theatre (Wildstars, 1979 and High Flyers, 1985), and Dein Perry on the internationally acclaimed Tap Dogs.
He has designed and directed musical productions from rock tours such as the Men at Work 1983 World Tour to the operas Metamorphosis (1984), Samson and Delilah (1984), and Moby Dick for the 1990 Melbourne International Festival. He has also worked his magic on revivals of the musicalsHair (1991) and The Rocky Horror Show (1992).
Triffitt was equally comfortable in the intimacy of a small theatre or the paddock-like expanses of Australian celebratory events such as Brisbane's Expo' 88, or the Sydney 2000 Olympic Games for which devised, designed and directed part of the Opening Ceremony.
Triffitt passed away on the 20 July 2012, and his achievements have been remembered in a memorial gathering held at Arts Centre Melbourne's Fairfax studio to celebrate his life's dedication to theatre and the arts.

Barry Ferrier (aka Barry Ferrier) is a Byron Bay based Australian musician, songwriter /composer and multimedia designer.
Latest from Barry Ferrier
back to top