07
Dec
Cammie Lindon and Barry Ferrier - Lindon Ferrier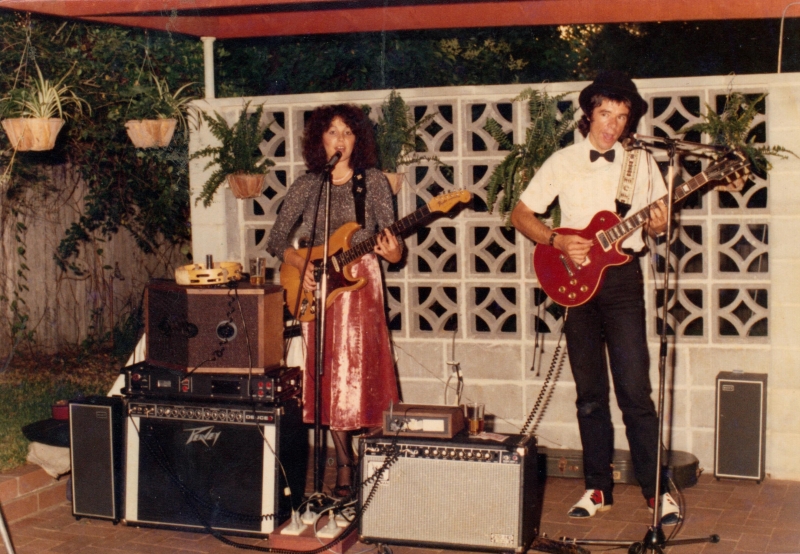 Barry Ferrier met outstanding vocalist and musician Cammie Lindon in the ealy 70s, when a fellow Sydney University student asked him if he would be a last minute stand-in for the lead guitarist at a Christian concert at which Cammie headlined in Hyde Park, Sydney, attended by some 5000 young Christians. They then began rehearsing together at Barry's rented Redfern terrace house, though Cammie was still at shcool. Cammie soon was recognised for her outstanding musical ability by comedian and Triple J host Bob Hudson, who arranged for her to appear as support to international guitar legend Leo Kottke at Sydney Town Hall. She performed several of Barry's original songs at this highly acclaimed performance.
For a period after this the two performed together in an acoustic vocal harmony trio with Sydney songwriter Roderick Morgan at restaurants and music venues around Glebe.
In the late 70s after the 'Jesus Christ Superstar' run had finished, Barry and Cammie Lindon reconnected and developed a successful music career together, as the duo Lindon Ferrier. They were joined by long time friend Roderick Morgan and the singer Chris Clark to perform Barry's self-penned comedy musical "the Milky Way Cabaret" at the iconic Flying Trapeze Cafe in Melbourne's Brunswick Street, and later performing around Sydney and Melbourne with their theatrical funk rock band Skeleton Crew with Peter Leighton on drums and Chris Doyle on bass (who Barry first met when he joined 'Jeff St John and Sacha'). They were joined for a period in this outfit by English keyboardist and syntheziser pioneer Andrew Thomas Wilson (who Barry met during his period as composer with the Lindsay Kemp Company). Skeleton Crew became very popular around the Sydney music scene in the mid-70s, and was supported by a fledgling Icehouse at a NSW Uni Roundhouse concert, and after touring Queensland, featured in a revival season of Steve J. Spears' politically charged but highly melodic piece "Africa the Savage Musical" at the VCA Theatre in Melbourne.
After introductions by Andrew Wilson, Lindon Ferrier recorded singles at United Sound Studios with eminent producer Spencer Lee , who's production secured a recording contract for the duo with international label RCA. They appeared on the ABC's legendary "Countdown", appeared live to air for a Double JJ performance, and supported Ry Cooder and David Lindley at the Palais Theatre in Melbourne. Cammie, who was NSW trombone champion as a teenager, brought the house down with her rendition of Randy Newman's "Guilty" featuring her trombone solo while lying on top of the grand piano played by Barry, and the standing ovation they received caused them to be sacked as support group for upstaging the headliners! They also toured as support act for the very weird Norman Gunston Christmas Show, and made further regional television appearances together. Their single of Ferrier's pop song "I'm Alive" received high rotation airlplay in Australia for some months but with virtually zero support from RCA, they were not able to gain great sales.
During this period they were managed (though not very successfully) by the Australian Music industry legend Harry Widmer (1926-2002), a man of extraordinary versatility - a painter, landscaper, house designer, builder, jewellery-maker, industrial designer, band manager, music promoter, car and boat designer and civic campaigner, as well as a swimming coach and prominent businessman, and he spoke four languages.
Harry had a large inpact on the evolution of the Australian live music scene and so we recount a history of his career in tribute:
Queensland-born, Harry was been taken to Zurich to be educated at age four and received a multilingual education, including a Swiss degree in industrial design. He completed compulsory service in the Swiss army (along the way becoming a national cross-country ski champion) and was later in the Australian army reserves, holding the rank of sergeant in the CMF Intelligence Corps.
He returned to Australia in 1946 but despite his great intelligence and his many talents, he now spoke almost no English and couldn't get a job, so he filled in time designing and making jewellery for Proud's while he learned English.
He took a position as a storeman for the General Motors distributor Stack's, but soon moved on to designing the showroom displays. An offer to work in the design department of the British Motor Corporation followed.
By 1961 he was director of industrial design at the electronics company Kriesler, a division of the massive Dutch Philips group. One of the many awards he won was the F.H. Edwards Laurel Award for 1966 for designing the Kreisler Mini 41-47 radio with polypropylene plastic case. The use of this material would later become commonplace, but the competition judges noted this was the first such application anywhere in the world.
In the late Sixties he moved into the music scene, managing bands and performers including The Executives, The La De Das, Kerrie Biddell and Doug Parkinson and setting up a music agency, Cordon Bleu. With the assistance of Melbourne poet Adrian Rawlins, Harry helped to finance the La De Das acclaimed 1969 LP The Happy Prince.
Barry had met adrian Rawlings through the Meher Baba movement, and a further connection was Celia, one of the Cordon Bleu booking agents who was also a member of Jeff St Jophn & Sasha (for whom Barry played lead guitar). During this period Barry performed extensively across Sydney as a solo act for Cordon Blue. Harry had Barry Ferrier and Cammie Lindon with band 'fill in' for the Executives for a concert at Sydney Town Hall when he doubled booked them.
Harry summed up his band management theory as making sure "all our selected management groups earn enough so they can stay together, live like human beings and improve musically".
Harry was also chairman of the PACT experimental theatre and arts organisation, working to lift the profile of actors, directors and producers (Peter Weir and Graham Bond among them).
Eventually Harry was offered the position of design director of the 212 British affiliates of the Philips electronics group and the family to move to England in 1971. They returned to Australia in 1974. At this time Harry moved into music full-time, managing more bands and artists and developing a new theatrical booking agency.
His new Windsun agency signed up 117 venues from Port Morseby to Perth, while Harry's new television packaging company - started soon after - became heavily involved on the production side, making documentaries and music shows.
Cammie Lindon:
Caron Mayda Lindon, affectionately known to family and friends as 'Cammie', was born 13th November 1955 in Sydney, Australia. She was the second child of five siblings, born to Richard and Jean Lindon, both professional vocalists. Barry and Cammie had a child together, Rachel Jean Ferrier. After giving birth to her daughter Rachel she took an extended break from performing and spent a period as a secondary school music teacher in the Western Suburbs of Sydney. In 1982, she was pipped at the post for the lead role in the Australian hit musical comedy movie, 'Starstruck' and was given the role as "the backup singer". Apart from her beautiful voice, and amusing trombone skills, Cammie was an accomplished guitarist and piano player, able to accompany herself with great polish. She had a earthy sense of humour and was a riveting cabaret performer.
Caron died on June 21st 1999 in Sydney at the age of 42, after a four-year long battle with cancer.
Here is a short film written and directed by Craig Kirshner starring Cammie Lindon & Barry Ferrier entitled "Second Time Straight" which is a testament to Cammie's versatility. She delivers a strong and believable portrayal of the naive Country singer Julie Madden, as she navigates the ups and downs of chasing success in Sydney's music scene.

Barry Ferrier (aka Barry Ferrier) is a Byron Bay based Australian musician, songwriter /composer and multimedia designer.
Latest from Barry Ferrier
back to top