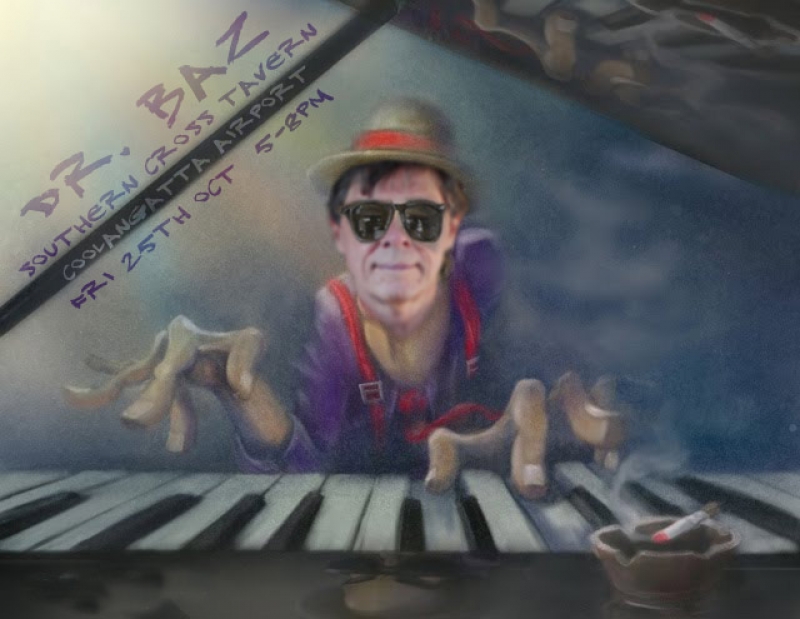 Dr. Baz is a dazzling guitarist but in addition, through his desire to write songs at the piano, has gradually moulded himself into a very accomplished piano player, adding an extra string to his musical bow, and over the past ten years he also has begun to perform regularly as a pianoman entertainer in clubs, hotels and weddings across the Northern Rivers and Gold Coast. He has entertained at literally scores of weddings and corporate functions, delivering his smooth renditions of a wide range of ballads, pop classics, fun swing tunes and dynamic cover songs.

He has the versatility to cross over between genres and serve up the great jazz standards, swing blues, and the hits of the great piano songwriters such as Billy Joel and Elton John with a warm, sophisticated sound.
His extensive repertoire includes soulful interpretations of Leonard Cohen, upbeat country from Johnny Cash, and stirring versions of many of the great songwriters and singers, contemporary hits, but also travelling back in time to the fifties rock of Elvis and Jerry Lee Lewis, 60s classics by the greats such as Bob Dylan and the Beatles, and some great Aussie pop songs... it's all great entertainment. His piano style really swings and his voice has a texture and deep authority.
It's just a lot of fun! Requests can be written on a fifty dollar note!

Barry Ferrier (aka Barry Ferrier) is a Byron Bay based Australian musician, songwriter /composer and multimedia designer.
Latest from Barry Ferrier
Media
Dr. Baz live at Bangalow Markets
back to top